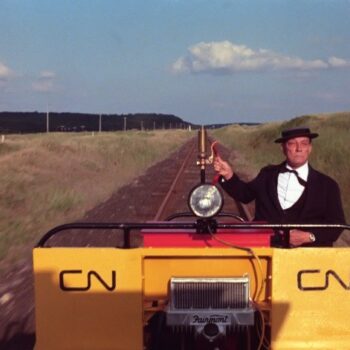 JavaScript Disabled

| 7:00 PM EDT
Théâtre du Lac Brome
9, chemin du Mont-Écho, Lac-Brome, Quebec, J0E 1V0
Free Festival presentation of the following films as part of the Knowlton Film Festival (August 24 to 28, 2022):
The Railrodder (without words) | Gerald Potterton | 1965 | 24 min
This short film from director Gerald Potterton (Heavy Metal) stars Buster Keaton in one of the last films of his long career. As "the railrodder", Keaton crosses Canada from east to west on a railway track speeder. True to Keaton's genre, the film is full of sight gags as our protagonist putt-putts his way to British Columbia. Not a word is spoken throughout, and Keaton is as spry and ingenious at fetching laughs as he was in the old days of the silent slapsticks.
Master Class following after screening.
The Ride (La course) | Gerald Potterton | 1963 | 6 min 40
From Gerald Potterton (director of the cult classic Heavy Metal), this short film depicts the daydream of a chauffeur awaiting his employer. On a hot summer day, he begins to imagine that it's winter—the residential street where he's parked transforms into snowy mountains, and a series of comic misadventures begin. As the car is replaced by a toboggan, it carries the tycoon away on a dizzying ride. The chase includes some unforgettable antics in the snow, including a piggyback ride on an incredulous skier.
Making Movie History: Gerald Potterton (Mémoire ONF : Gerald Potterton) | Joanne Robertson | 2014 | 5 min
Director and Animator Gerald Potterton recalls arriving at the NFBs celebrated Animation Studio and some of his forays into live action fiction.
For more information, please click here.