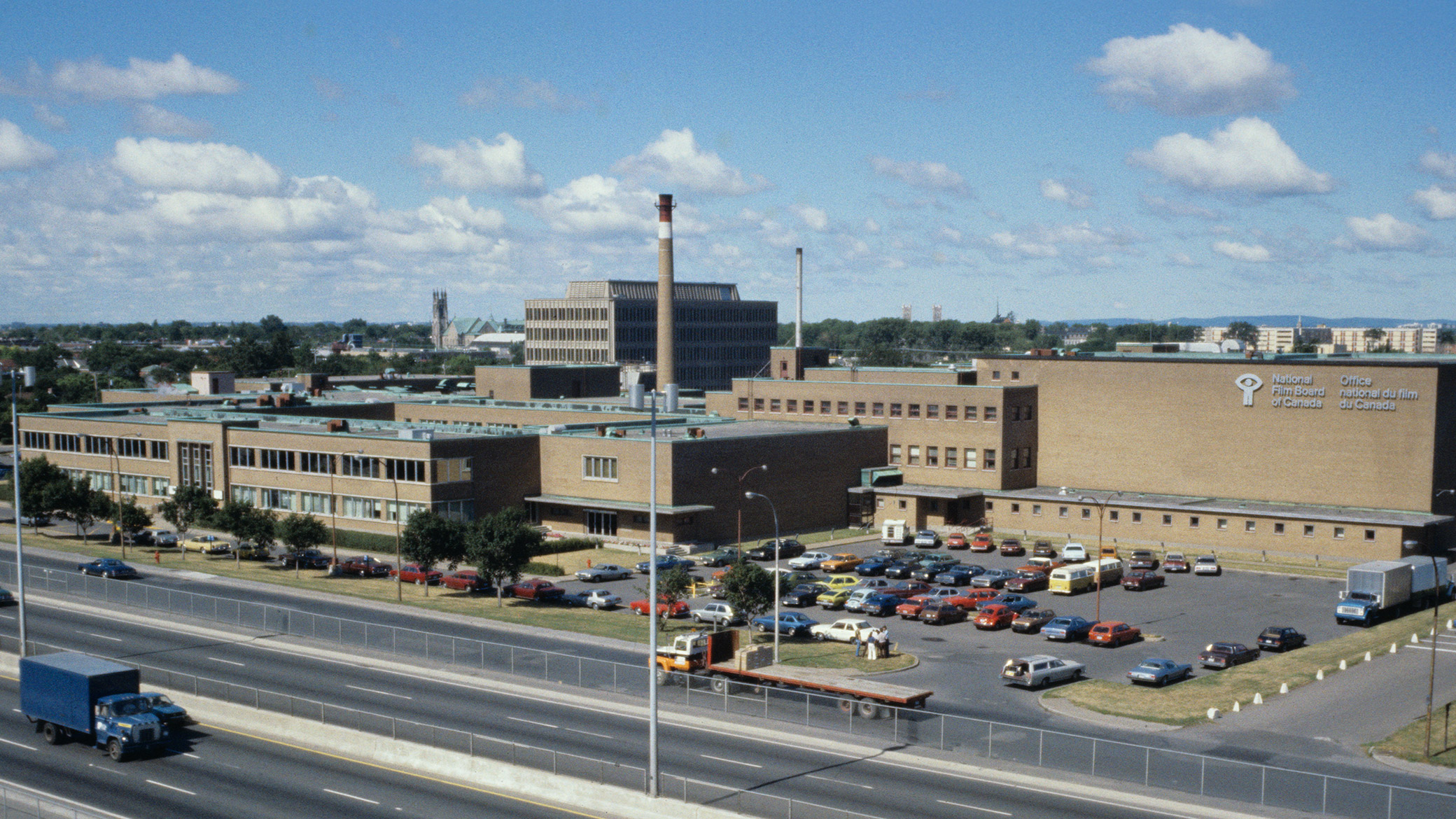 JavaScript Disabled

| 10:00 AM EDT
National Film Board of Canada
3155 Chemin de la Côte-de-Liesse, Montreal, Quebec, H4N 2N4
We're thrilled to be offering the public an opportunity to visit the NFB's legendary headquarters at 3155  Côte-de-Liesse Road one last time, before our upcoming move to downtown Montreal. We hope this journey through the past, present, and future of creativity will help you get better acquainted with your NFB. Please save the date for our Fall 2019 move to the Quartier des Spectacles!
There are two components to the Open House events: a guided tour that's approximately an hour-and-a-half long, and special activities that you can sign up for individually when you arrive. Visitors are welcome to stay at the NFB for the entire day. If you have any questions or aren't sure where to go at any point in the tour, please feel free to ask your guides.
Part of Journées de la culture, in collaboration with Héritage Montréal.
The guided tour
Stock footage and photographs
Over the past 80 years, the NFB has amassed an impressive collection of stock footage and photographs that bear witness to how Canada and the world have changed. Today, researchers and filmmakers alike have access to these audiovisual gems.
Norman McLaren's bold vision and innovative spirit were the lifeblood of the NFB's world-renowned animation studios from the very start—and his creative legacy lives on today. Come see an exhibition on a fascinating range of animation techniques, and watch acclaimed filmmaker Patrick Bouchard as he live-animates a life-sized model of his own body, just as he did in his short film The Subject.
Collection Conservation Rooms
The conservation rooms, which we affectionately call "our vaults," contain the NFB's entire collection of works, a veritable treasure trove stored in ideal conditions. The NFB is dedicated to conserving, restoring, and digitizing this vital collection, and making it accessible to the public.
In the earliest days of Canadian cinema, there was the NFB and the documentary. Our Documentary Studio team will be using carefully selected trailers and film excerpts to present the extraordinary history of documentary filmmaking at the NFB, covering key classic titles as well as more recent productions.
Chester Beachell Foley Studio
The NFB in Montreal is also celebrated for the technical services it offers. Visit our sound studio to see (and hear) a live sound-effects recording session in which the audio will be synched with images.
The NFB's new downtown headquarters and public space in 2019
A sneak peek at where the NFB will be moving in 2019: Îlot Balmoral, in the heart of the Quartier des Spectacles. One major new feature of the new HQ is an enticing space that will be open to the public, with a wide range of programming on offer. We'll see you there in the fall of 2019!
Special activities
*Visitors can sign up in the designated areas during the open house (limited number of places available)
Interactive and virtual reality experiences
Created in 2009, the NFB's Digital Studios are dedicated to new forms of storytelling and exploring unknown creative landscapes—and they've garnered many awards around the world in the process. Discover a special selection of works in our thrilling interactive/VR game room!
Schedule: 10 a.m. to 3 p.m.
Great animated shorts on the big screen
Come to the Pierre Perrault Theatre to watch a selection of our latest and best animated shorts, as well as a beloved NFB classic. You'll be duly impressed by the range of creative techniques used in this eclectic group of films: Patrick Bouchard's The Subject, Torill Kove's Threads, Zviane's Sweet Childhood, Christopher Auchter's The Mountain of SGaana, and Cordell Barker's The Cat Came Back.
Schedule: 10:30 a.m., 11:30 a.m., 1:15 p.m., 2:15 p.m. and 3:15 p.m. Duration of each screening: 40 min.
The art of sound in documentary
The spacious Colin Low Mixing Studio will be the site of a live demonstration of sound mixing, using a sequence from Luc Bourdon's feature doc The Devil's Share. With the participation of the director as well as Catherine Van Der Donckt and Jean Paul Vialard, whose work on the film won them the Prix Iris for best sound in a documentary.
Schedule: 10:50 a.m., 11:40 a.m., 1:10 p.m., 1:55 p.m., 2:40 p.m. and 3:15 p.m. Duration: 20 min.
Guided tour of the building's exterior with Héritage Montréal
Enjoy an outdoor tour of this building that's been the NFB's home since 1956, as well as the surrounding area, courtesy of volunteer guides from Héritage Montréal. Offered rain or shine.
In French: 10:15 a.m., 11:15 a.m., 2:15 p.m. and 3:15 p.m.
In English: 10:45 a.m., 11:45 a.m., 1:45 p.m. and 2:45 p.m.
Duration: 30 min.
Useful information
Cafeteria
If you're feeling a bit peckish and the little ones are exhausted, come take a break in the cafeteria. You can enjoy a cold meal or a snack, and there's also a special area just for the kids. Payments: cash, debit or Visa credit card.
How to get to the NFB
Du Collège metro
Take the 128 Bus—Get off at Houde St.
Crémazie metro
Take the 100 Bus—Get off in front of the NFB
By car – Parking is free!
! Be careful at Rockland Circle. Stay in the service lane for 40 West.
Coming from the East
On Highway 40 W, take exit 70 for Highway 15 N in the direction of Laval/Saint-Jérôme/Rockland Road, keep left at the fork, and then follow the signs to Deslauriers Street/Rockland Road to reach Côte-de-Liesse Road, and continue straight to stay on Côte-de-Liesse Road. The NFB building will be on your right.
Coming from the West
Proceed in the direction of the Trans-Canada Highway E/Highway 40 E, follow the Trans-Canada Highway E/Highway 40 E, take exit 68 toward Stinson St./Rockland Road/L'Acadie Boulevard, follow Côte-de-Liesse Road, veer right to continue on Côte-de-Liesse Road, turn left on Stinson, turn left on Côte-de-Liesse Road. The NFB building will be on your right.
For more informations
Email : info@nfb.ca
Phone number : 514-283-9000 (Montreal) / 1-800-267-7710 (Canada)