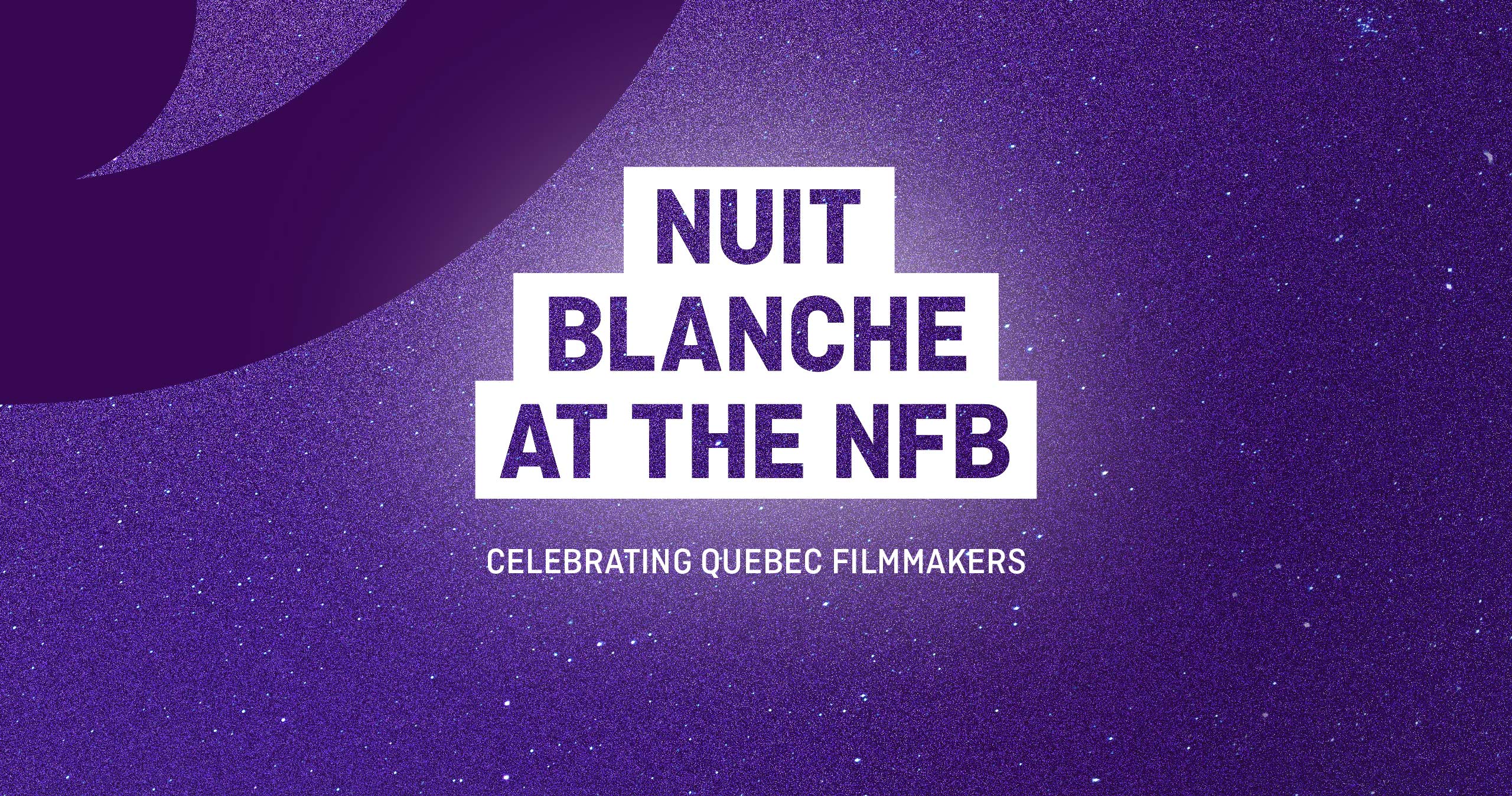 JavaScript Disabled

| 6:00 PM EST
NFB Space
1500 Balmoral St., Montreal, Quebec, H3A 0H3
CELEBRATING QUEBEC FILMMAKERS
On February 25, come and celebrate Quebec cinema! For the 20th Nuit blanche à Montréal, the NFB salutes 50 years of the Association des réalisateurs et réalisatrices du Québec (ARRQ) with a dazzling program that showcases the diversity of our homegrown talent. Watch the films at the Alanis Obomsawin Theatre and sample some virtual reality works at the NFB Space. The party will go all night long!
As part of Nuit Blanche à Montréal.
ALL ACTIVITIES ARE FREE OF CHARGE!
6 p.m. to 1 a.m.
 VIRTUAL REALITY STATIONS – NO RESERVATIONS REQUIRED
Roxham
Michel Huneault, 2018, 15 minutes
This immersive story centres on Roxham Road, a small section of the border where people are arrested and welcomed at the same time. Photographer Michel Huneault documented border interceptions of asylum seekers moving from the United States to Canada and their confusing quest for a safe place.
Gymnasia
Chris Lavis et Maciek Szczerbowski, 2019, 6 minutes
Step into the stillness of an abandoned school and enter Gymnasia, a place where the ghostly ephemera of a lost childhood await you. Recall the particular sights and sounds of a child's world through the echoes of ball games, school lessons and choir recitals. Gymnasia reanimates the memories of those forgotten days.
A coproduction with Felix & Paul Studios.
FILM SCREENINGS – NO RESERVATION REQUIRED
English Program Schedule
6:15 / 7:45 / 9:15 / 10:45 / 00:15
French Program Schedule
7:00 / 8:30 / 10:00 / 11:30
*Programs are approximately 35 minutes
ENGLISH PROGRAM:
N.B. The majority of these films are without words. Films that are in English are presented with French subtitles.
NFB Pause | 25 Years After Kanehsatake: 270 Years of Resistance
Annie St-Pierre, 2018
Making movie history by documenting reality. Alanis Obomsawin shares her thoughts on Kanehsatake: 270 Years of Resistance with #NFBPause.
Black Soul
Martine Chartrand, 2000
Martine Chartrand's animated short dives into the heart of Black culture with an exhilarating trip though history. Watch as a young boy traces his roots through the stories his grandmother shares with him about the events that shaped their cultural heritage.
Hothouse 5 – Orange
Sylvie Trouvé, 2009
This animated short poses some interesting questions: what if buildings pulsed, trees tapped out beats, or shadows could whistle a tune? Through the creative interpretation and animation of the city's natural rhythms, Orange orchestrates a contagious urban dance. Produced as part of the 5th edition of the NFB's Hothouse apprenticeship.
Under the Weather
Tali, 1997
This animated short follows a group of happy vacationers sunbathing… under cloudy skies. Despite the weather, they look cheerful, eating ice cream and hot dogs, frolicking in the sand. When the sun finally breaks through the clouds, everyone deserts the beach. The film presents a fanciful yet awkward scenario in which the strange behaviour of one person may be the delight of another.
Zea
André et Jean-Jacques Leduc, 1981
A superb visual trick that will mystify its audience, this animated film transforms the commonplace into magic.
NFB Pause | New Technologies in Film Animation
Annie St-Pierre, 2019
At the NFB, both new and old technologies co-exist in harmony. For our Animation Studio Technical Director, Eloi Champagne, this means staying up-to-date on innovative production methods—including VR animation.
Mobilize
Caroline Monnet, 2015
This short film, crafted entirely out of NFB archival footage by First Nations filmmaker Caroline Monnet, takes us on an exhilarating journey from the Far North to the urban south, capturing the perpetual negotiation between the traditional and the modern by a people moving ever forward.
Part of the Souvenir series, it's one of four films by First Nations filmmakers that address Indigenous identity and representation, reframing Canadian history through a contemporary lens.
Carface
Claude Cloutier, 2015
In this animated short, a Chevrolet Bel Air 1957 offers an ironic take on the iconic American ballad "Que Sera, Sera (Whatever Will Be, Will Be)". The Chevy's bumper transforms into a pair of seductive lips, from which emerge the song's reassuring lyrics, while a choir of cars performs a breathtaking dance number in the background. A biting satire of our Big Oil-based civilization, Carface is a musical comedy of spectacular proportions, in which acclaimed animator and illustrator Claude Cloutier (The Trenches, Sleeping Betty) pokes at our contemporary insouciance about the environmental perils that threaten the planet.
FRENCH PROGRAM:
N.B. Films with an asterisk are in French only; others are subtitled in English.
NFB Pause | Marc St-Pierre
Joanie Lafrenière, 2018
The NFB's French collection curator, Marc St-Pierre
I Like Girls*
Diane Obomsawin, 2016
In this animated short from Diane Obomsawin, four women reveal the nitty-gritty about their first loves, sharing funny and intimate tales of one-sided infatuation, mutual attraction, erotic moments, and fumbling attempts at sexual expression. For them, discovering that they're attracted to other women comes hand-in-hand with a deeper understanding of their personal identity and a joyful new self-awareness.
Alambic: Solid Ground*
Beatriz Carvalho, 2022
Solid Ground is a poetic and sound-rich travelogue—a personal journal that reveals the thoughts of an expatriate returning to her native land. Employing the rarely used monotype animation technique, Solid Ground reflects the personal experience of discovering different lands and feeling as though one were simultaneously at home and elsewhere. A film from the Alambic collection, a creative lab by the NFB's French Program Animation Studio that's designed for emerging filmmakers.
Fernand Dansereau: In a Lifetime
Sylvie Lapointe, 2022
Fernand Dansereau is one of Quebec's most prolific filmmakers, having produced, directed and written more than sixty documentaries, fiction films and television serial dramas. Over the course of his career, he has helped forge new filmmaking practices such as cinéma de relation and direct cinema. This short film traces a long journey, during which Dansereau has constantly travelled the pathways of creativity, with kindness as his guide, giving voice to people seeking to define the essence of a nation. In the process, it affords the viewer a glimpse into the filmmaker's own soul.
Magical Caresses | Masturbation : A Short Story of a Great Taboo
Lori Malépart-Traversy, 2022
*This film deals with mature subject matter. Viewer discretion is advised.
History as it was never taught in school. This animated short looks back at the surprising story of our relationship with masturbation—and its repression—from prehistory to today. From the Magical Caresses animated documentary series, in which Lori Malépart-Traversy takes a playful and uninhibited look at solo sexuality.
Tout écartillé
André Leduc, 1972
Experimental short film on a Robert Charlebois song.
NFB Pause | Karla Baumgardner
Annie St-Pierre, 2018
"You have to have the reaction time of a goalie to do Foley." Emmy-award winning Foley artist Karla Baumgardner reveals the secrets of how to add sound effects to animated film.
Sweet Childhood
Zviane, 2017
In this animated short, cartoonist Zviane comes across an old audiocassette while packing up before a move. Just the sight of the tape plunges her back into her childhood fantasies and her perceptions of the world. But the reality of what's on the tape results in a hilarious episode that questions just how "sweet" childhood really is.