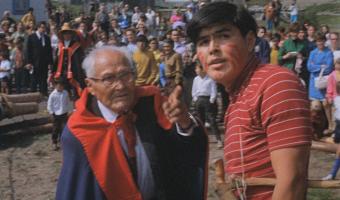 JavaScript Disabled

| 1:30 PM EST
Kwanlin Dün Cultural Centre
1171 Front St., Whitehorse, Yukon, Y1A 2C6
AVAILABLE LIGHT FILM FESTIVAL 2020! 
Saturday, February 1,  2020 | 1:30 PM
To buy tickets please, click here.
Various Directors
2019 | 61 min
Short films by Indigenous filmmakers from around the world. Curated by Tr'ondek Hwech'in filmmaker, Kerry Barber. FREE EVENT
Lake (Alexandra Lazarowich (Cree), 2019, AB, 5 min)
Now is the Time (Christopher Auchter (Haida), 2019, BC, 16 min)
When internationally renowned Haida carver Robert Davidson was only 22 years old, he was instrumental in changing the history of his people forever. With help from his grandparents, his father, and his younger brother Reg, Davidson committed to carving the first new totem pole in Old Massett in almost a century.
Moloka'I Bound (Alika Maikau (Hawaiian), 2019, USA, 9 min)
Tawa (Tristin Greyeyes (Muskeg Lake Cree Nation), SK, 3 min)
Ribadit (Pulling in the Belt) (Elle Sofe Sara (Sami), 2019, NOR, 10 min)