THE NFB'S 17TH YEAR AT THE RVF: ALWAYS SOMETHING NEW, ALWAYS FREE!
Detailed program (pdf)
Registration form online (If you have difficulties with the registration form online, pdf available.)
The 24th edition of the Rendez-vous de la Francophonie (RVF) is putting the spotlight on the vital role traditions play in our society—so crucial for building bridges between generations, cultures and communities.
For its 17th consecutive collaboration with the RVF, the National Film Board of Canada (NFB) was inspired by this theme to assemble six programs of documentary and animated films, offered free of charge to any group, organization or institution wishing to hold in-person or online screenings during this epic celebration of the Francophonie.
The NFB certainly knows a thing or two about celebrating tradition. It has its own 80-year tradition of making films and producing Canadian content. Some of the country's most talented filmmakers have cut their teeth here, and we continue to support emerging artists.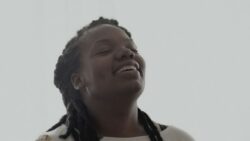 Six programs that can be presented in theatres or online:
1. Creative Works That Connect Us (50 min) (14+)
These five documentary shorts are part of La courbe (The Curve), social distancing stories that bring us together, filmed at the height of the pandemic. The program highlights the talent and creativity of artists offering their perspectives on the pandemic's multifaceted impacts in Quebec.
L'impossible été de Jules (Jules' Impossible Summer)
Sòl (Sòl)
Chronique du bout de mon rang (Road's End Chronicle)
La veille (The Vigil)
Avant la nuit (As Night Descends)
2. The Tradition of Innovation at the NFB (7+ and 14+)
The NFB has been innovating since its very beginnings in 1939. Today, the organization carries on this tradition by combining disciplines in new ways and assembling creative teams that find fresh approaches to storytelling. The interactive story Far Away from Far Away (Plus loin que loin) is inspired by the childhood of visionary Zita Cobb. J'aime les patates (I Love Potatoes) is an adventure game that introduces social innovation and sustainable economy issues to kids.
Far Away from Far Away (Plus loin que loin) (14+)
Interactive story for touchscreens and smartphones
J'aime les patates (I Love Potatoes) (7+)
Narrative game for smartphones, tablets, or computers
3. From the Direct Cinema Tradition to Land Preservation
(6 episodes of 30 to 37 minutes) (16+; contains scenes with animals that may disturb some viewers)
Moïse Marcoux-Chabot's six-part documentary series Ramaillages (Gatherings) draws on the direct cinema tradition to provide new perspectives on regional development relevant to all rural areas, offering a sensitive, insightful exploration of environmental issues.  (Two 90-minute blocks for in-theatre programming)
4. Thriving Traditions and Vibrant Identities (90 min) (14+; contains scenes with animals that may disturb some viewers)
This program of documentaries is a compassionate and sensitive examination of the different paths taken in search of identity.
Samedi, la nuit (Saturday Night)
Histoire de sable(Tales of Sand and Snow)
Si le temps le permet (If the Weather Permits)
5. Sports, Sports and More Sports! (63 min) (11+)
This youth program is dedicated to an ever-popular topic that wears many different hats, caps and helmets: sports. A unique collection of shorts that will move you, make you laugh, and above all, make you think.
Ma Moulton et moi (Me and My Moulton)
Le mal du siècle (The Great Malaise)
Wapos Bay – Jouer pour soi, c'est pas hockey (Wapos Bay: There's No "I" in Hockey)
Le chandail (The Sweater)
Comptines (French version only)
6. Grandparents, Families and Fairy Tales (42 min) (6+)
The bonds between grandchildren and their grandparents are strong, and vital for families and society, and this colourful program explores those bonds with tenderness and humour.
Tzaritza (Tzaritza)
Ma grand-mère repassait les chemises du roi (My Grandmother Ironed the King's Shirts)
Fais bien attention! (Mind Me Good Now!)
Mamie (Mamie)
Maq et l'esprit de la forêt (Maq and the Spirit of the Woods)
Mamie et Mia (Granny and Mia)
Here you will find more information about how to organize an NFB screening for the RVF.
To contact us:
rvf@nfb.ca