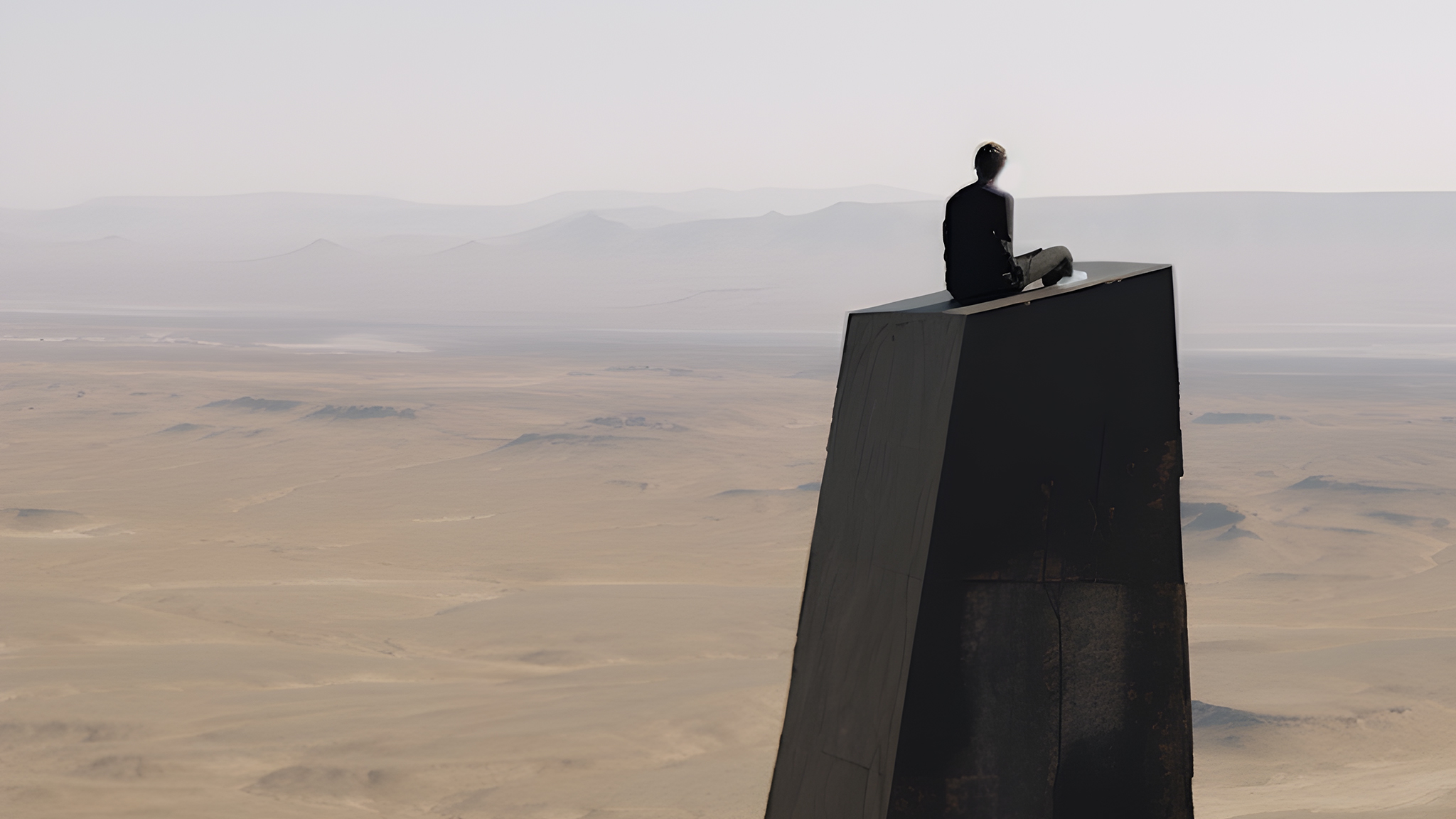 JavaScript Disabled

| 10:00 AM EDT
NFB Space
1500 Balmoral St, Montreal, Quebec, H3A 2H7
Paid ticketing event. 
QUESTION EVERYTHING.
"If we choose, we can live in a world of comforting illusion."
– Noam Chomsky
CHOM5KY vs CHOMSKY
A playful conversation on AI
Explore the world of artificial intelligence with an engaging and collaborative virtual reality experience that examines the promises and pitfalls of AI.
Created by Sandra Rodriguez, CHOM5KY vs. CHOMSKY is a co-production by the National Film Board of Canada and SCHNELLE BUNTE BILDER, with support from the Medienboard Berlin-Brandenburg.
Tickets
Secure payment is made by Weezevent.
Frequently asked questions
The experience

CHOM5KY vs CHOMSKY: A playful conversation on AI is an interactive, multi-user virtual reality experience that invites you to converse with an artificial entity built from Noam Chomsky's digital traces.

The virtual reality experience takes about 25 minutes, but each timeslot runs 45 minutes, to take into account the introduction and getting set up. Please arrive 5 minutes early.

It's presented in English and French.

Yes, it starts at specific times. Please arrive on time for your reservation.

If you arrive late, please speak with one of the staff at the door, to see if we can reschedule you in the next timeslot. We will do our best to find another available time, but unfortunately there's a possibility that you will not be able to participate in the experience. If this happens, your ticket purchase will not be refunded.

Yes, you can keep your glasses on, but, if possible, contact lenses are preferable when you're wearing a virtual reality headset.

The virtual reality experience may cause discomfort for some people. It is not recommended for anyone with claustrophobia, a heart condition, a history of seizures, epilepsy, or sensitivity to flashing lights.

The experience can accommodate two groups of up to four people in each group, for every 45-minute session.

Because of the complexity of the technology being used, the installation may require unplanned maintenance from time to time. This could lead to delays or cancellations. If your session is cancelled, your purchase price will be refunded.

Our team follows stringent hygiene protocols. Headsets are thoroughly disinfected using a UV light, ensuring that they're effectively sterilized after each visitor.

Noam Chomsky and his agent were both informed about the project right from the start. However, Mr. Chomsky was not personally involved, directly or indirectly, in the creation of the interactive work. The interactive work in no way claims to be a deepfake of Noam Chomsky. CHOM5KY, the artificial entity we created, is inspired by Noam Chomsky. Based on the renowned intellectual's extensive digital footprint, CHOM5KY invites us to pull back the lid on the workings of machine learning. Its observations prompt us to think differently about what we call artificial intelligence, how it compares to human intelligence, and the ways that AI and human life are now intertwined.

Professor Chomsky is a philosopher, social critic, historian and political activist, but is perhaps best known for his work in linguistics and cognitive science, the study of the mind. As one of the most recorded and digitized living intellectuals, he has left behind an extensive wake of data traces, enough to create an AI system based on his legacy. Chomsky is also skeptical about the pompous promises made of AI. Which makes him the perfect guide to encourage visitors to question everything they see—and help demystify AI.
Access

The CHOM5KY vs CHOMSKY experience is being presented at the National Film Board of Canada's headquarters, located at 1500 rue Balmoral, Montreal, Quebec, H3A 2H7.

CHOM5KY vs CHOMSKY is being presented from September 6, 2023, to October 15th, 2023.

The CHOM5KY vs CHOMSKY experience is located near the Place des Arts Metro station, on the green line. The 24, 55, 80, 125 and 129 bus stops are also close by.

Visitors can use the Îlot Balmoral building's underground paid parkade. Its entrance is at 335A rue Mayor.

The experience is available only for people ages 13 and over.

Yes, the experience is available for people with reduced mobility.

If there's a problem or you need assistance, don't hesitate to speak with our staff on-site. They are available to help at all times.

Eating and drinking are not allowed, and neither is bringing in large bags or bulky items, as these can interfere with its running smoothy. In addition, drinking alcohol, smoking or doing anything that will bother or disturb other participants is not allowed.

For the safety of all participants, backpacks and handbags are not permitted. A space is provided for your personal effects, but there are no lockers.

This is an experience that involves moving from one zone to another. For the VR portion, it's possible for visitors who don't feel well to access a seated version. However, it has been designed to be experienced through walking.
The experience is also accessible for people with reduced mobility.
Tickets

You can reserve your ticket online, at CHOMSKYVSCHOMSKY.ca.
Once you've completed the purchase process, you will receive a confirmation email, which will include your ticket.

If you're having trouble accessing your ticket, please contact us.

We offer a general admission ticket, for $26 + applicable taxes.

All tickets are sold exclusively on the event website. You cannot get tickets on-site.

Timeslots are limited, and you must reserve in advance, using the website. This ensures you don't come to the site for nothing.

Tickets are non-refundable and cannot be exchanged.

We use contactless ticket validation, with the tickets on your phone. However, you can print your ticket if you prefer.

Don't worry. We'll be happy to help you. Contact our user support team and we will do our best to answer your questions. You can contact us by phone at 514-287-9000 (Montreal area) or at 1-800-267-7710 (anywhere in Canada), from Monday to Friday, 9:00 a.m. to 7:00 p.m. Eastern Time, or by email at info@nfb.ca.